I participated in "A Place for Everything" at Brown Paper Packages last weekend. So fun. Here's the idea I shared with her readers, for those of you that missed it!
When
Kierste
asked me to join in the "A Place For Everything" fun, I panicked for a moment... because I am not all that organized. My craftiness doth deceive you all! Lol. But I try. Don't we all?
Anyway, I do have a great idea for you today, one that was shared with me years ago and has saved me a lot of time on those hectic school mornings.
I don't want to have to get up any earlier in the morning than I already do. As it is I have to be out the door by 6am if I'm going to get in my run for the day. So I do what I can to expedite the time it takes to get my kids ready for school when I run back through that door. Making lunches was probably the most time consuming (and loathesome) thing on my school-morning-to-do list. I used to rummage through my fridge for fruit cups, then my pantry for plastic spoons to accompany said fruit cups. Whilst my kids would be rummaging through the economy sized bag of chips trying find a particular flavor, and then through the granola bar box (which is far too small for 4 sets of hand I might add)... Basically, it was total chaos with us all running into each other and fighting over flavors, and after my kids left my kitchen looked like a natural disaster had hit it. Are you feeling me?
So finally, out of desperation, I rearranged a shelf in my pantry for lunchbox items only. And it has saved my life. Well, not really, but it has shaved several minutes off the early morning ruckus and that is close enough for me!
I started off with these bins from the $1 aisle at target.
Filled them with the goodies my kids love - presorted with their favorite flavors, of course.
And labelled them using leftover Christmas tags that I spray painted with chalkboard paint.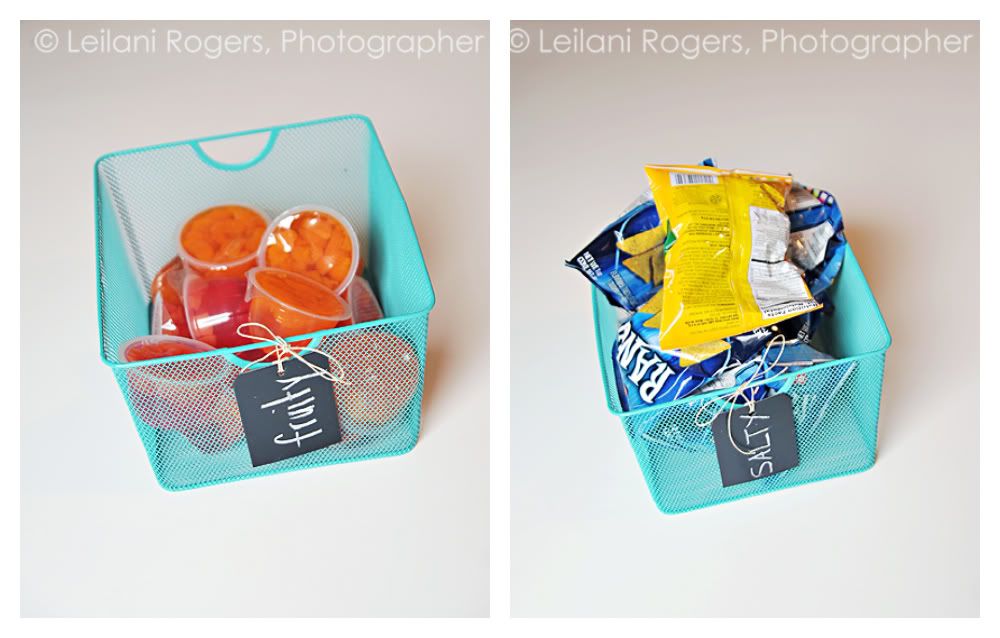 In order of importance: fruity, salty, then sweet.
Now while I make my kids a sandwich at the counter, they can grab one of each thing out of these bins and put them in their lunchboxes all on their own! Without the aftermath! And it takes just a matter of seconds.
Thanks so much to Kierste for having me over!