Happy Monday everyone! I hope you all enjoyed your holiday festivities. I ate myself into a coma and just woke up this morning to real life going on all around me. What's up with that?

One thing that did help get me out of bed this morning was the chance to tell you all about a great boutique I was introduced to a few weeks ago. Lisa of Embellish Kids had a fashion show a few weeks ago to launch her line of handmade children's clothing, and my daughter Sasha got to be in it! Lisa's clothes are made so well, and they are so darn cute, that I practically tackled her about doing a giveaway on my blog!

Have a looksie at a small sampling of the goodies she's selling in her Etsy store:



She even makes things for little boys! Don't you love this vest?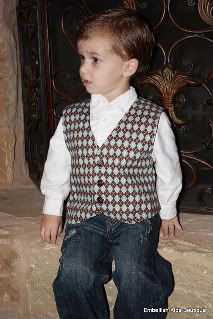 And here's what she's got whipped up for the holidays!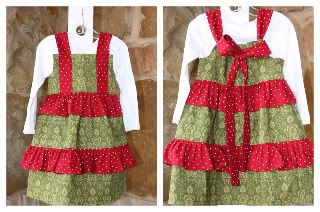 Now for the exciting part. Lisa is giving one My Many Colored Days reader one of her delicious capelets!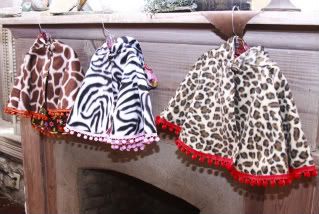 Aren't these yummy? I was in love with them the minute I saw them!!! So, so, so cute. They are available in sizes 2T-7 and come in a giraffe print with burnt orange pom pom fringe, zebra print with bubble gum pink pom pom fringe, or leopard print with red pom pom fringe. The inside of the capelets has a funky yet well coordinated fabric to match.
You get to choose which one you want! I'm serious! Here's all you need to do to enter (leave a comment for each one!):
FOR 1ST ENTRY: Go visit Lisa'e
etsy
store and come back and tell me what your favorite item is!
FOR 2ND ENTRY: Add her shop to your favorites!
FOR A 3RD AND 4TH ENTRY: Become a My Many Colored Days follower if you haven't already done so! You don't want to miss future giveaways, do you?
FOR 5TH ENTRY: Buy something!!! Because all readers get a 20% off discount using this code -
LEI2010
FOR 6TH ENTRY: POST ABOUT THIS GIVEAWAY ON YOUR BLOG, FB PAGE, OR TWEET ABOUT IT!!!
6 ways to enter, and you especially can't go wrong if you use that discount code! Lisa's prices are already so reasonable, so shop away and get a head start on Christmas gifts!
This giveaway will close Friday, December 3 at midnight CST. Open to US residents only.
Good luck!!!