Is it really time to start thinking about Halloween? Or Fall, for that matter? We're still in the 90s down here in TX. And had a few days of pure rain, so it's also nice and humid outside right now. But, I'll play along with all you craftsters and join the Fall/Halloween idea train...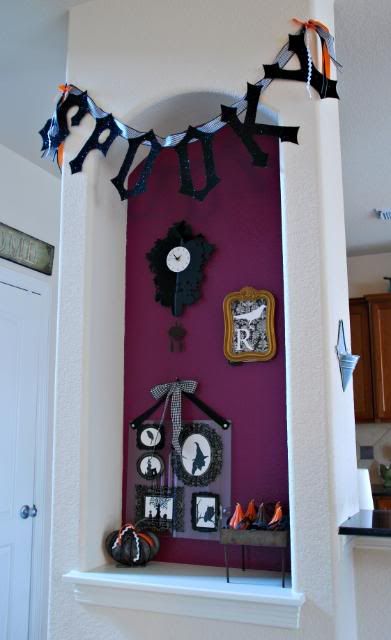 Last fall while my friends and I were out and about looking at model homes we came acroos a cute bedroom with the word "DREAM" hanging from a curtain rod. It was done in a gothic-like font and the letters had glitter on them and hung from ribbons. This look has since become very trendy, but at the time I hadn't seen anything like it. We decided we loved the concept, and thought that it would be a perfect idea for a Halloween banner.
Here's what we used:
this
font
black posterboard
Elmer's glue
popsicle sticks
brush
black (or orange, or silver) glitter
ribbon
Blow up the letters to the size you want and print out. Cut them out and use them as stencils on black posterboard. (We smoothed out some of the edges on the letters because they were a little too ornate in our opinion).
Reinforce the back of your letters with popsicle sticks if your posterboard is too thin (if you do not, the glue will cause the post board to curl).
Paint your letters (one at a time) with an even coat of glue. Sprinkle black glitter generously over the letter. Let your letters dry overnight.
Using a wide ribbon (if your ribbon is not wide enough your banner will not hang flat), attach your letters using hot glue. Leave about an inch bettween letters... you don't want them to close together or they will overlap when you hang it up. Leave at least a 7 inch tag on each end from which to hang your banner.
Add additional pieces of ribbon for whimsy... choose a variety of widths and textures. I used orange silk, black with handstitched edges, white ric rac and black and white striped. Black and white gingham and polka dots would also be cute! You can also hang the letters individually, each one with it's own piece of ribbon.
Looks great across a mantle, hanging in a window, along the top of an armoire, or at the top of a niche like mine. I thought the letters might also look cute if covered in velvet!
Enjoy!