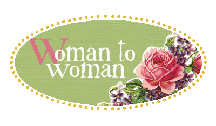 Today for Woman to Woman we're taking a few moments out of our busy days to reflect on our blessings and the things which we are grateful for. I think that for many people, 9/11 was an eye opener. It's helped us to realize that there are a great many things that we take for granted. Please join us today for some introspection and share with us 11 things that you are thankful for. It feels so good to give reverence to such a pivotal day in our history by recognizing the good things of the world.

1. my family - I couldn't bear to lose them. I'm not sure where that kind of strength comes from, the kind that keeps you going despite losing your soulmate, or a child, in a tragic situation. That's got to be one of the most defining moments in your life.

2. freedom - I am free to live the life that I want to, to believe what I feel is right, to govern myself and my children as I see fit, and to voice my opinions and concerns.

3. faith - Faith is the most powerful thing which you cannot see or touch. It is the only tool with which you can endure.

4. security - I feel safe. In this unpredictable world it is nice to feel comfort and stability.

5. health - I'm glad that I am able to care for my family without any ailments. I'm glad I have a strong and capable body.

6. laughter - Nothing cures better than a good, long laugh. It's healing powers and the relief it brings are unparalleled.

7. motherhood - I am certain that I would not become the woman I want to be any other way.

8. womanhood - There is so much joy and possibility in being a woman.

9. love - How can one go through life without loving or feeling loved?

10. music - I feel so lucky to have more than one means to express and share myself.

11. time - Thank goodness we have a lifetime to fulfill our earthly missions. I know it often feels like there is such little time, but not if you make the most of it.

If you've decided to join us today, please stop by my co-host Morning Glory's blog as well. Leave us a link and a comment so we can each visit you in return!