Check out the Fall Tour of Homes at Blissfully Domestic:




The Nester is also having a Tour of Homes. Check it:







Speaking of The Nester, wanna know what I made yestrday while feeling sick and sorry for myself? One of
these
ragamuffin galrlands. And now I am in love. Thank goodness, I was getting sick of
fabric flowers
already!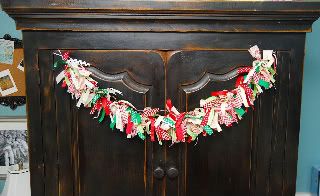 My Raggamuffin Garland. Perfect name for it, don't you think?
How do you like my new look? I got everything you see here for FREE at
The Background Fairy
and
The Graphics Fairy
. You have to go peruse all the great stuff she's got for the taking! Not to mention her fun craft ideas. Aren't these burlap napkin rings wonderful?
That's same image on those napkin rings that you see on my darling little Thanksgiving countdown in my sidebar. Also available at Background Fairy.
Last but not least, check out these adorable bracelets and headbands (and some other fab stuff) from One Creative Momma
here
and
here
! I feel like I have known Michelle forever... we started blogging about the same time. She has got one creative soul. Truly, truly unique! I love that!