I'm back! And have so many random tidbits to share. We had a great time. Lake Tahoe was beautiful. Just beautiful. Truly the perfect summer spot. We swam in the lake and went hiking. My husband took the older kids river rafting and to Six Flags. I got my day in San Francisco (and saw a bear on the way home *shudder*), where my only goal (and just about the only thing we Bart novices accomplished) was to eat some gnocchi at E'Angelo's (hands down THE BEST Italian restaurant in the country, by the way). I also made my husband stop in Reno on the way home so that I could stock up on good travellin' eats at Trader Joe's (I've never been). It was all just perfection! (And sorry for so many parentheses.)

I learned that 3 days in the car with 4 children will either make or break you. It was tough. I mean, TOUGH. But I managed to make note of some funny things my kids said. And I have to share those, of course. Because if you can't laugh in hindsight at your unruly charming children, the population would be fast dwindling.
Day 1: Jonah keeps saying "This is the best day of my life!" (I should have asked him to remember that for days 2 and 3)
Day 1: While reading "Is there really a human race?", there came a part where mid sentence there was a page turn. Jonah just could not resist finishing it himself and made us all laugh right out loud: "If we don't help each other, we're going to..." (page turn) "JAIL!". Lol. (The word was actually "crash", and it's a cute book by the way, if you're searching.)
Day 2: We're using a restroom at a gas station and I (of course) ended up with both of the older children in my stall. My 5 year old is extremely impulsive and it didn't take him long to fidget the door open to innocent bystanders while I was still, er, "going". To add insult to injury, he says out loud, "Mom, you're STILL pooping?!" Ugh.
Day 2: The DVD they were all watching began to skip and Jonah throws up his hands and says, "That's it!"
Day 3: Jonah (this kid is full of funnies) was getting very restless, and we still had a few hours to go. Every hotel we passed he told us, "We could stay there! Oh oh, we could stay there!" So, in trying to redirect him, I said "Jonah, look at the beautiful clouds!" To which he sourly replied, "They're horrible!"
Day 3: Adriana, giving her father a sideways glance, says to me "Mom, I've got to talk to you in private. Can we have hot chocolate tonight?" (I admit it, I am "the fun parent".)
And I remembered my camera! (But we forgot the stroller. Sigh.)
My muddy buddies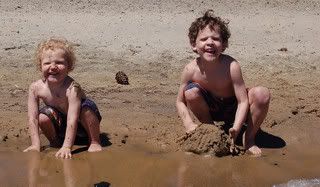 Grandpop says something funny
Being silly with Aunt Emily
The most photogenic cousin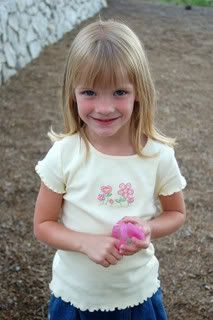 And again
This one's for Morning Glory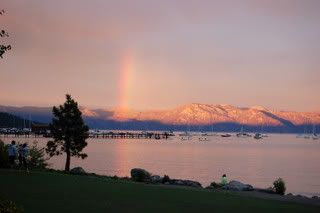 Feeling triumphant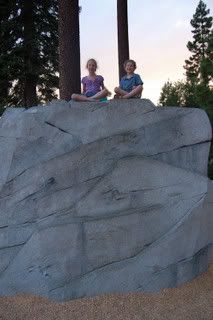 Anyone know what these are? Wild geese?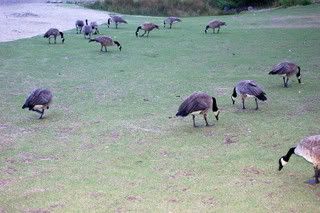 Drewby sneezing (lol)
And discovering stars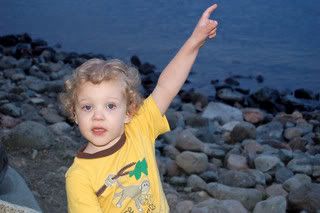 The oldest and the youngest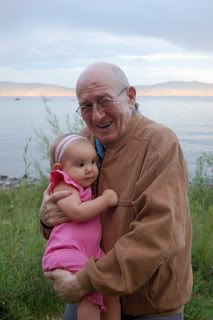 Could they be cuter?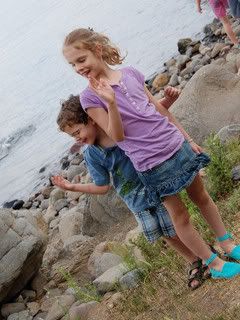 Beach babe
Fun in the sun
Lots of cousins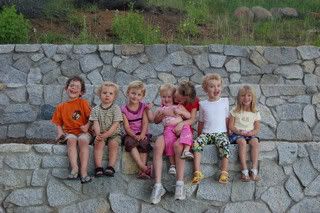 As much as I enjoyed my time away, it is good to be home. I'll be slowly making my way around to your blogs. Still getting my land legs back. ;)