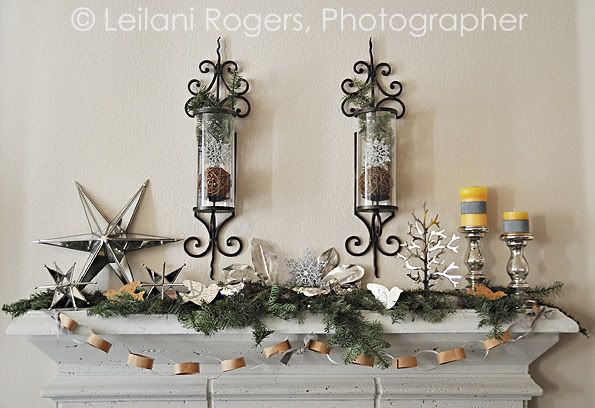 Only in blogland does December 7th feel too late to post a picture of your Christmas mantle. Oh well. I always did march to the beat of my own drum. Are there any mantle parties still going on?
I played around with this for a couple hours. Yup. I usually keep candles in my sconces but I wanted to give it more height, so I stuck in a fresh branch, grapevine ball and silver snowflake ornament instead.
You've all noticed the mercury glass trend, I'm sure. Loving that! So I pulled together what I had... some little bird figurines, a gumdrop tree, a couple candle holders, silver magnolia leaves (did you know you can spray paint leaves???), and stars. To top things off I tucked in several fresh tree trimmings, a paper chain made with kraft paper and scrapbook paper, and my
Ballard Design knock off ornaments
from last year. The stars presented a bit of a challenge, but I think it works. I really didn't have any other place for them in the house and I really REALLY love them.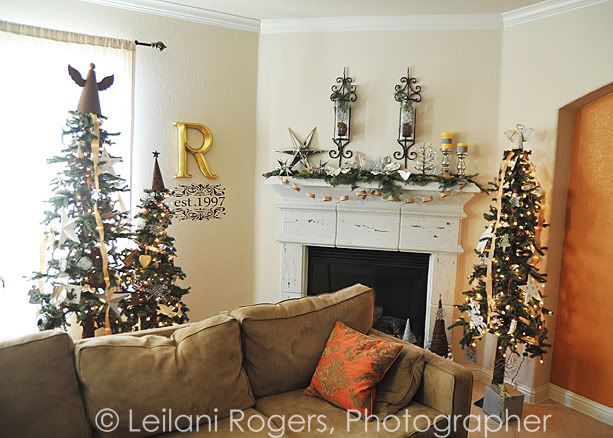 I really love how this whole area turned out, actually. I usually hang every ornament I've ever gotten. Kind of a sentimental gesture. Plus I really do love all my ornaments. But this year I really wanted to do more of a theme. And I love white (you wouldn't think it looking at my house, there is color EVRYWHERE!). Since I have 4 messy kids, I just use it where I can for now. So I went through the ornaments and used only white and neutral colors this year, and I kind of ran with the star theme. Some of those big stars are usually used in my outdoor decor, but I love the bold statement they make on my trees.
I also added long trailing ribbons. I've seen Martha Stewart do this and ribbon is huge at Pottery Barn this year. Love how it looks... 2 of the trees have a goldish ribbon coming straight down the sides, and one has a brown with white polka dots wound around in a spiral.
It all blends in so much more nicely with the rest of my decor this year. Plus I'ms till on an organic high from Thanksgiving. Although I have reds and greens already in this room, I didn't want my trees to look gaudy. I wanted elegant and natural at the same time. And unlike years past, I didn't have to undecorate any other parts of the room to keep things from looking too cluttered with the addition of 3 Christmas trees.
What's your style going to be this year?