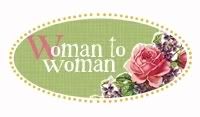 We (women) tend to focus so much on our weaknesses and often blow them out of proportion. But our strengths, the things we are good at, go unnoticed, especially by ourselves. I know there are times when I have feared that my confidence may come across as arrogance. It's taboo to assert your successes as a parent! And even in general, I think women are very careful about how much credit or attention they give to themselves. But we all certainly deserve praise and recognition. And so, right on the heels of Mother's Day, this "Woman to Woman" is an opportunity for us all to admit that we are amazing, and to share our strengths with one another.



I think that perhaps my most valid accomplishment as both a mom and a woman has been to stop the cycle of abuse that I grew up with. I spent many years as a young adult worried and doubtful that I could be a strong woman, a good wife and a confident mother. There is an undeniable possibility, and I think anyone who has ever been abused would agree, that you will fall into the pattern you know; that you will become the example you were given. So for me to rise above that nagging and relentless posssibility and be at a point in my life where I've accepted the awful things I've been through, but chosen to discard them and embrace only the positive, makes me very proud of who I've become.

As a mother, this pride is helping me to instill several important qualities in my children: compassion, emotional confidence, faith, positivity. And the ways in which I do this are by providing a warm environment in our home, one that allows them to be themselves; to love and feel freely. I let them know they are the light of my life just by the smile I give them when they walk into the room. I want them to see in my face the joy they add to my life. I want them to know that I am proud of even the little things that they do. And I put all my effort into all that I do - for them, for me, for my husband - showing them that 100% of your effort, in all that you do, is important and vital to a positive attitude.

I have not only consciously stopped a vicious cycle from continuing, but I've spoken out against it, by deciding early on that I will not be that poor girl, but that I will be an amazing woman and mother, taking only the good part with me, and embracing it as if it were all that existed. I have exemplified forgiveness for my children, a priceless gift. They do not now know the details of the awful things I have been through. But one day they will find out. They will read these words. And they will see me in a different light. They will see life in a different light. Their ability to forgive will be in place, as should their ability to always find "that good part".

Morning Glory and I hope that this particular topic will draw lots of participants, because as we can plainly see, there are many, many incredible and inspirational women out there that need to be celebrated! So please, add your name and link to your post. Leave me a comment and visit Morning Glory at Seeds From My Garden, as well.