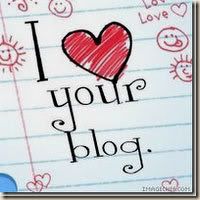 My good friend smart mama recently highlighted me as a blog she loves. I must say, that no matter how much time passes between my blogging spurts, I have a few blogs that I too cannot stay away from. Smart mama of course is one of them. She is bursting at the seams with creative genius. We talk of getting together and having a mass 'o fun. I daydream of all the projects we could come up with by putting our 2 heads together. It really, really needs to happen, don't you think?

Morning Glory and I are long time blogging buddies. She co-hosted Woman to Woman with me. I've tied myself to various mother figures over the years due to the loss of my own a few years back. I look up to MG in many ways. She is kind and selfless and an abosultely beautiful person. How can you not love someone like her? I know many of you feel the same way about her as I do. She's such an inspiration.

Shelah at Hitting the Ground Running always has something engaging to read. She's a very talented writer and a smart and strong woman who motivates me always! She's the ultimate "doer". Check her out at fMh and Segullah as soon as you can! And you'll see what I mean about her! I'll be so, so sad when she leaves TX. Because I haven't taken advantage of her living here!

Zoe from Fresh Preserves and I go back, back , back to the college days. We were roommates and have remained close friends since then. Zoe is another creative soul sister of mine. We could spend hours going over ideas, or doing anything for that matter! Because she is fun and funny and I adore her thoroughly. :)

Michelle, aka Scribbit is someone I would really like to meet some day. She has always been so personable with me, regardless of how busy she is with her zillions of blog fans. ;) She's another woman who "makes it happen". Her blog is very innovative; she's become a strong leader in the world of mom blogs! But the bottom line is that she's down-to-earth and kind and a wonderful mother... I especially love it when she shares her kid-friendly activities with her readers!

Allysha at Bells on Their Toes is another old friend. We both attended BYU and danced with Dancensemble. But we didn't really get to know each other until happening upon each others' blogs in the last few years. Funny how that works, isn't it? Allysha has such a way with words (you just have to check out Just an Orange sometime), it is clear that dancing is not her only talent! I will probably never, ever stop reading her blog. Ever. She's easy to love. :)

My sister-in-law Sarah at Slightly Crunchy Mama is such a blessing in my life. I'm tearing up! Ack! I just love her (and selfsihly want her to move to Austin, not Houston, in April)! They are job hunting right now and I have everything crossed that we will soon be neighbors!