Summer play stirs up quite the apetite. If you're looking to spice up snack time, here are some fun ideas for you.

*apples, sliced from top to bottom, core cut out with a small heart shaped cookie cutter
*pretzel rods with a large marshmellow on one end, dipped in PB and rolled in chocolate chips
*rainbow sprinkles over yogurt
*mini bagels, spread with PB and topped with thinly sliced apple slices
*english muffins, topped with tomato sauce, pepperonis and shredded mozarella - broiled
*made-to-order trail mix - favorite cereal, favorite dried fruit, favorite nut, and chocolate/PB/buttersctoch chips
*sushi treats - mold rice krispy treats into thick disc shape, wrap in a fruit roll up and stick a jelly belly in the center
*just about anything on a skewer - fruit, veggies, hotdogs and cheese, chicken and apples

-----------------------------------------------------------------------
We enjoyed our little trip very much... my brother-in-law's wedding. Here are a few pictures of me and my little flower girls.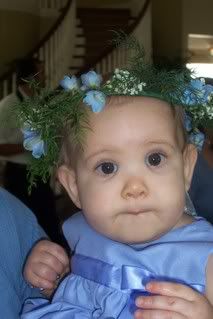 I have a lot of blog reading to catch up on, so I am sorry if it takes me a while to get to you. Remember, tomorrow is Woman to Woman! We're writing about our favorite quote, so please join us!